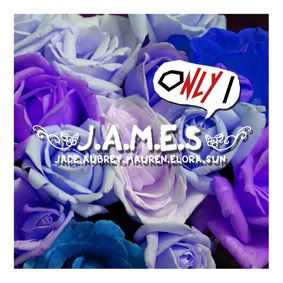 -MID 2009 COLLECTIONS-
Jade, Aubrey, Mauren, Elora and Sun...
They love love love music and they also enjoy fashion DIY projects a loads...
Very creative girls here at the J.A.M.E.S..."
80's Madonna, a bucket of black rose, Sumatran Tiger, lacey laces lace...,
Cibo Matto, Karen O, blings the studs, irritating sound...
because Only I is just Only 1, and Only you will own it!!
Type : item code / your name / your city / payment
Example : annie03 / cindy / jakarta / bca
send SMS to:
0817.48.4444.1
This lace blazer is just match to your office outfits or even with your broken white tank top!
Wear your old baggy jeans and get a smart casual look, just like Kate Holmes always did :)
From huge blazer transformed into a cute penguin blazer, with a very fitted sleeved!
Jade die to see the prints of this blazer!
-VINTAGE EXCELLENT CONDITION-
Oversized blazer! This one is very comfortable to wear...
The motif will blow your day into such a wonderful day ever...
Some of city in Indonesia is definitely need a warm unique jacket to stay alive yet stylish...
Be trendy everywhere right, or u prefer to let yourself freeze to the death?! Oh noooo...
Pick this Japanese look jacket! Warm and Sexy!
Cropped jeans vest remind you of 1980's? Pick this grunge vest or the jeans jacket
with pretty beads details on it..., create your creative look girls!!
Well both matched the dress nicely tho... :)
-VINTAGE EXCELLENT CONDITION-
Check out this oversized brown jacket with roses sketch details!
Wear it with your basic dress girls :)
note: black ink, sea blue, sweet pink
Jade's home made triangle belts! Jade always loves something simple,
just like adorable triangle belts!
Customized your own sizing!
Speechless and it crushed my heart too deep..
The super skinny sleeves fitted your sexy arms!
(the sleeves are fitted and tight, takes few seconds to get inside the sleeves and to pull it off)
This turquoise leopard top is not just a piece of tempting top,
but also a piece of art to wear, and yet a multi functional top!
You can either match it with your choices neon tube dress or
wear it with bikinis and shorts to the beach! Or even with your black sequin bodycon dress?
(Thick Tulle Patterned / Cotton)
Bf's Blazer is always comfortable to wear, we can move and shake our body like free...
but how about not only you who can shake and shake all day, the golden egyptian fellows
are also ready to shake it all!! Glam yet sophisticated!!
(Gold Egyptian Patterned Silk/Cotton)
Aubrey loves anything with horse illustration on it...
and this old vest will give you a little memory after you wear it...
Aubrey modified the vest by adding different kind of studs,
all around the pocket line (not a real pocket)
The color not as bright as others, but it's worth to owned...
(Checkered Cotton / Embroider Horse)
Blooming Plum Dress is that one above, yes you are right!!
It's so sweeeeeeettttt!
-VINTAGE EXCELLENT CONDITION-
Blooming Plum Dress is that one above, yes you are right!!
It's so sweeeeeeettttt!
Madness Polka Dots Blazer! Check out the super puffy balloon shoulder and black&white collar!
This blazer is unique overdose!
Code: aubrey08A/B/C/D/E/F
belt mocha code: aubrey08A
Big stretch brown belt, serve with 'mocha float' and an 'extra milk', yummmm....
Aubrey's fav is the 'brain' one... hmmm :)
pray code: aubrey08C Rp 45K
fries code: aubrey08D Rp 35K
brain code: aubrey08E Rp 35K
night code: aubrey08F Rp 40K
From huge blazer transformed into a cute penguin blazer, with a very fitted sleeved!
This lazy dress makes her eyes slowly blind, the stripes flickering your enemy's eyes, for sure...
(this dress made from an old huge shirt, love the stripes pattern, so irritating... )
(Dark Blue Stripes Cotton)
What are you gonna do when you have something in your closet but it's just not good
enough to wear! Re-NEW the stuff! This sexy play dress was a piece of on shirt and
an old office look skirt...! See the result! You can also wear it to the office and be funk!
-VINTAGE EXCELLENT CONDITION-
Wow... look at that dress... perfect shape, awesome!
Mauren would love to wear it with her fav boots, vest, and fishing hat!
A little bit of animal prints flavour you can taste here...
-VINTAGE EXCELLENT CONDITION-
Oh my oh my...., another roses, but this one is super special white roses on blue background!
Zoom in for details, it's an absolutely art to wear! The shape and ruffles at the bottom brings
you the hardest time to sleep tonite... Grab it fast here!
Check it out!! The embroidered cotton with motif cotton, yellow blue is waiting for you!
Patterned dress, as simple as it is, made by Mauren herself to attend NIN concert
next week... Unique item!
Black grunge studded vest is Mauren's new DIY!
Grab it fast girls!
-VINTAGE EXCELLENT CONDITION-
This long dress is totally AWESOME!
I'm speechless, zooming in to see the fabrics details...
P.S: You can also give this warm beautiful printed long dress as a farewell gift to your BFF
who moves overseas (somewhere with winter of course :P), this dress brings so much
memory and she definitely going to love it...
About this renewal dress, i bet your little sister, your nieces and nephews is gonna LOVEEEEE it!
Mauren from the WonderLand...
(this cute dress was a piece of vintage bolero and skirt, Mauren did a great max modification
so this dress will look
Color poisoned light & dark blue, Floral motif
-VINTAGE EXCELLENT CONDITION-
Wearing it to the office tomorrow?
Everyone will love you in one day seeing this sweet dress on you :)
Color White & Baby Blue Floral Motif
Another lazy dress, before it transformed beutifully, this dress was a huge
unfashionable corny shirt..., i know it's unbelievable, see the final result,
grab it fast girls! And don't forget... GO RE-CYCLING!
Color Night Blue Background
Made from some old stretch cotton dress and splash around a lil bit of acid...
What about some of it modified with studs?? Check out our recycling necklace girls!!
Sweet Rainbow with acid splash, neckalce!
FEATURED on Rasti's video clip!
Mad Rainbow with acid splash, double necklace!
Sweet Ice Cream with Bronze Studs, necklace!
Grunge Blue with Bronze & Silver Studs, double necklace!
Since 8 years ago, Mauren is collecting so many kind of beads, this time Mauren is ready
to show her creations of necklace!
-VINTAGE EXCELLENT CONDITION-
You can see it clearly ait? This lace blazer will bring a mysterious look for your skin tonite.
Wear it with anything you like, it matched every items nicely, trust me :D
-VINTAGE EXCELLENT CONDITION-
this coffe milk color shirt is perfect! Feel the classic touch of the shape and the color
itself! Wear it both front and back sides... hmmm :)
-VINTAGE EXCELLENT CONDITION-
This shirt is art to wear, it's like wearing a painting!
Wear it funky with your silver latex legging and yellow or orange pumps,
or... wear it with your fav denim bottoms!
Color Cream with orange green illustration
Oversized wash jeans blazer is here..., feels like going back to the 80s!
Where all people with their own grunge looks...
Again, lazy dress is here..., remember... wear it just like that,
You can also mix it up with your bolero or vest?
It's an artsy finding huh...? The condition is just fine, but the effects u'll get by using this
embroidered golden on white blazer is definitely GLAMOUR effects!
Wear it to the party tonite with sexy white tube and super skinny jeans...
For you who got super sexy tummy, this is one is a must buy item!
Color white & Golden Embroidered
-VINTAGE EXCELLENT CONDITION-
This shirt is super unique, the collar shape is so unusual, the buttons are fab!
The motif of the fabrics is recommended! This shirt rocks!!
Color Green & Purple prints on White
Tear apart knit wear just like Rumi from the Fashion Toast...
Wear it wild with your neon bodycon dress for the inside...
This cage knit will create a grunge effects for your street look!
Oversized patterned cardigans, wear it casually with your basic white or black bodysuit...
You can also wear it as a bed jacket, it's warm and comfortable tho :)
(the color conditions is not as bright as the others, but the pattern is just lovely!)